產品型
錄(PDF)
GW-5492 is a fully configurable universal Modbus RTU to BACnet/IP gateway. The GW-5492 includes BACnet/IP Server and Modbus RTU Master which is used to make Modbus RTU devices accessible on a BACnet network.
BACnet (Building Automation and Control Networking) protocol has been designed specifically to meet the communication needs of building automation and control systems for applications such as heating, ventilating, air-conditioning control…etc.
The GW-5492 contains a large number of BACnet objects (AI, AO, AV, BI, BO, BV, MSI, MSO, MSV) gives you flexibility in mapping Modbus RTU registers to any combination of BACnet objects. Multiple BIBBs (DS-RP-B, DS-RPM-B, DS-WP-B, DS-WPM, DS-COV-B…etc.) are supported. All the data transfer is configurable using a standard Web browser.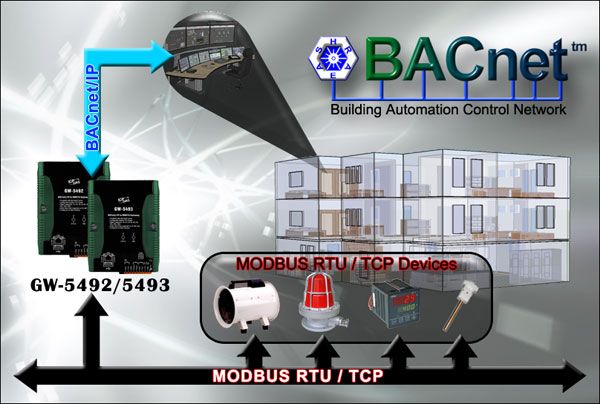 產品應用
‧Building Automation
‧Heating, Ventilating, and Air-conditioning Control
‧Lighting Control
‧Access Control
‧Fire Detection Systems
特 色
General Features
Quickly and Cost Effectively integrate networks

Provide PWR/Communication Status indication LED

Read/Write any standard Modbus register via BACnet

No Programming Required

Modbus register mapping configured via web interface
BACnet
Fully Compliant with BACnet/IP Server

Supports up to 200 objects each of types: Analog Input, Analog Output, Analog Value, Binary Input, Binary Output, Binary Value, Multi-State Input, Multi-State Output

BIBB (BACnet Interoperability Building Blocks) Supported: DS-RP-B, DS-RPM-B, DS-WP-B, DS-WPM-B, DS-COV-B, DM-DDB-B, DM-DOB-B, DM-DCC-B, DM-TS-B, DM-UTC-B, DM-RD-B
Modbus RTU
Fully User Configurable Modbus RTU Slave

Supports Modbus coils, input register, holding registers

Supports for Function Code 0x01, 0x02, 0x03, 0x04, 0x05, 0x06, 0x10, 0x0F

Baud rates supported: 2400, 4800, 9600, 19200, 38400, 57600, and 115200 bps

硬體規格
System

CPU

32-bit

SDRAM

64 MB

Flash

64 MB

EEPROM

16 KB

Communication Ports

COM1

RS-232 (RxD, TxD, and GND); Non-isolation

COM2

RS-485 (D2+, D2-); 2500 V

DC

; isolated

Ethernet

10/100Base-TX Ethernet Controller

Protocol

Modbus

Modbus RTU Master

BACnet

BACnet/IP Server

BACnet Objects

AI, AO, AV, BI, BO, BV, MSI, MSO, MSV (Maximum: 200 each)

BIBB Supported

DS-RP-B, DS-RPM-B, DS-WP-B, DS-WPM-B, DS-COV-B, DM-DDB-B, DM-DOB-B, DM-DCC-B, DM-TS-B, DM-UTC-B, DM-RD-B

Mechanical

Dimensions (W x L x H)

91mm x 132mm x 52mm

Installation

DIN-Rail

Environmental

Operating Temp.

-25 ~ +75 °C

Storage Temp.

-30 ~ +85 °C

Humidity

5 ~ 90% RH, non-condensing

Power

Input Range

Isolation

1 kV

Consumption